Historic Roof Restoration Specialists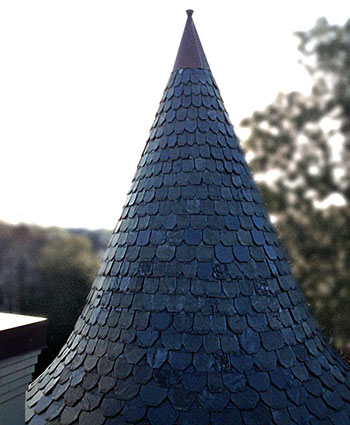 One of the advantages that is associated with being a company that is in its 7th decade and 3rd generation is a diverse knowledge of roofing services and materials. These skills and techniques can only be passed down from generation to generation, makes Stevens Roofing Corp the obvious choice. Due to that, when you are searching for a professional historic roof restoration be sure to call us.
Many of the roofs we restore were first installed when our company was started.  This is not the type of expertise you can get from a newer roofing contractor claiming to have learned the restoration trade. Do not trust this work to contractors who is not trained for it.
Virginia's Historic Roof Restoration Experts
Historic roof restoration in Norfolk, VA, and surrounding areas is not to be treated lightly. Here is some of what you should know:
Our team will always be respectful concerning the historical significance of this type of project. Many roofing contractors won't feel the same way.
There are a number of roofing materials that may be involved when it comes to an antique roofing system. Some examples include clay tile, slate, wood shingles, Metals like lead and copper and galvanized steel.
Doing research to find out more about the history of the roof and original plans can be helpful. It's good to know what types of events this roof may have experienced.
Local Leading Service Provider for Historic Restoration in Norfolk, VA & Surrounding Areas
Stevens Roofing Corp is the leading provider for historic restoration because we are the only qualified team for the job. All it boils down to is the fact that we genuinely care about the satisfaction of our customers. We also take great pride in being part of restoring a part of local history.
See What Customers Are Saying About Our Historic Restoration
---
"We are always happy with your work. Living in an old house it is not easy to find a company that can do the work on a 98 year old roof. We continue to recommend you to our neighbors."
---
"… I have enough experience after 30 years of do-it-yourself improvements on a 100+ year-old house to appreciate the difficulties and unique challenges that this type of improvement can involve. Ted and Tom were neat, efficient and competent, and Ted kept me informed at every critical point when repair decisions had to be made. In all, this had to rank as the most satisfying adventure my wife and I have had in years of dealing with home improvement contractors. As for price, I have had enough experience that you will, most often, get what you pay for. Having work done on the slate roof of a 100+ year-old three story house is not the time to buy cheap. It is critical that the salesman who offers a higher estimate can inspire confidence and then deliver. Nick did both, so I have no problem with what I feel is a fair price for top quality work."
---
For quality historic restoration in Norfolk, VA and the surrounding areas, please call Stevens Roofing Corp at 757-489-8791 or complete our online request form.
Latest Articles